AUGUST 29, 2018
The term "one size fits all" rarely stands true in any scenario. But, in the industrial automation market, it's never the case. Each business has its own set of unique needs – and budgets – when it comes to equipment and its reconditioning services.
With evolving technology, challenges arise in finding new parts for legacy systems. This forces companies to either replace old equipment or add new solutions to meet growth and capacity needs. Aside from costly, this process can also disrupt your operations, which results in unplanned downtime, increase in labor hours and more.
Save Your Machines and Your Money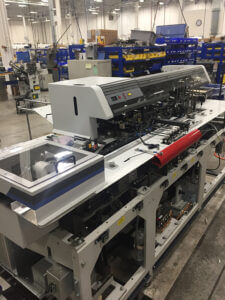 Thanks to innovative reconditioning services, you don't have to say goodbye to outdated or underperforming equipment. Just like you wouldn't have to buy a new computer to update it to the latest OS, you can upgrade your industrial equipment to enhance speed, performance or capabilities.
At Bell and Howell, we provide several levels of Product Reconditioning Services. The first tier of our service offering is Field Change Orders (FCO). Here, we custom-engineer solutions that let customers optimize their systems with new technologies or functions. For example, we can outfit production mail solutions with enhancements like quality control through end-of-process vision systems.
When new, refurbished or remanufactured may not be the right answer, FCOs let you extend the life of the equipment you already own. Specialists perform FCOs on your equipment at your facility to minimize downtime and avoid hefty shipping costs. While our roots lay in mail production systems, we are also the trusted partner to manufacturers in other industries including wide-format printing, robotics and industrial packing equipment. We can perform FCOs on both Bell and Howell-manufactured solutions as well as equipment from other OEMs.
Learn more about FCOs and Bell and Howell's other Product Reconditioning Services (PRS), or contact us today to find out how we can help customize a solution to meet your specific equipment needs.