Companies extend longstanding relationship to increase capacity and production volumes at Data Media's Alpharetta, Ga. headquarters
DURHAM, N.C. (August 8, 2018) — Bell and Howell, an industry-leading technology services and solutions company, announced today that longtime customer, Data Media Associates, has expanded its partnership with the addition of four new Bell and Howell high-speed inserters. Data Media Associates is the nation's largest company focused exclusively on medical billing, and handles the creation and delivery of patient statements for more than 5,000 providers. The company currently processes more than 600,000 medical billing documents per day, with the new inserters providing an additional 50 percent increase in capacity.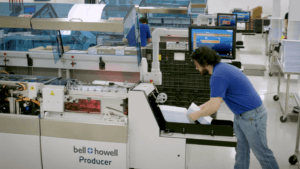 In order to support the company's continued growth, Data Media Associates selected Bell and Howell's high-speed Producer 400TM inserters to increase their production capacity. Designed to excel in 24/7 production environments, the Producer 400TM can process up to 20,000 pieces per hour while ensuring 100 percent accuracy with low operating costs. The high-speed inserters are also backed by Bell and Howell's award-winning service organization and 24/7 support infrastructure, which Data Media Associates has relied on to deliver top-level service and maximize equipment uptime for over two decades.
"For more than 20 years, Bell and Howell has stepped up to the plate and provided us with the same level of service that we provide to our clients," said Cleve Shultz, president of Data Media Associates. "We're thrilled to further expand our partnership with them and continue to deliver service that is second to none."
Earle Painter, Vice President and General Manager of Production Mail at Bell and Howell, believes that the companies' shared commitment to superior customer service is the genesis of their longstanding partnership. "Data Media's customers trust them to meet their growing requirements year after year," said Painter. "We look forward to continuing our relationship with Data Media Associates and providing even greater value to both them and their customers in the future."
To learn more about Bell and Howell, visit www.bellhowell.net, call 1-800-961-7282 or follow the company on Linkedin and Twitter.
# # #
About Data Media Associates
Data Media Associates (DMA), founded in 1975 by Bob Murphy, is one of the largest independently owned and operated print and mail businesses. DMA services the medical community across the country with print and mail services for patient statements, collection letters, paper claims, and special notes. Service also features acceptance of electronic claims which are processed in real time, giving an immediate electronic remittance to submitted claims. To learn more, visit www.dma.us.