DURHAM, N.C., January 8, 2018 — Bell and Howell, the leader in retail click-and-collect solutions, announced the debut at NRF 2019 Show, January 13-15 in New York City of a next-generation self-service technology, designed to automate the prescription pickup process. QuickCollect Rx™, a turn-key pickup kiosk, frees pharmacy staff to more effectively assist customers while simultaneously decreasing customer wait times. During the show, retailers, pharmacies and other interested parties can experience a real-world demonstration of the new automated Rx process, talk with industry experts, and learn how automation is revolutionizing the customer in-store pickup experience.
QuickCollect Rx™ uses the same simplified pickup process as other Bell and Howell pickup solutions. Once a prescription is filled by the pharmacy and ready for customer pickup, the customer receives a text or email with their unique pickup code. The customer can then come to the pharmacy at their convenience, scan their code at QuickCollect Rx™ and their prescription is delivered within a few seconds. With one induction terminal facing into the pharmacy and two pickup terminals for customers, QuickCollect Rx™ can serve multiple customers simultaneously, even while the pharmacy is loading new prescriptions into the system.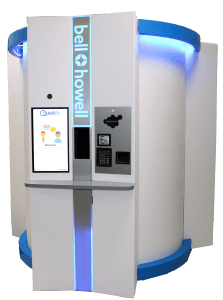 "As the leading provider of click-and-collect solutions in the retail space, we realized that pharmacies are suffering from the same manual, cumbersome pickup process and long wait times that retailers struggled with before the introduction of autonomous pickup solutions," said Bell and Howell President, Larry Blue. "It doesn't matter if they are an independent pharmacy or are integrated into an established retailer, the challenge is the same – how to provide a convenient pickup experience for customers."
Designed to easily integrate into existing retail pharmacy environments, QuickCollect Rx™ utilizes a true 'plug & play' deployment model. With built-in access to a pharmacist via video chat during traditional hours or after a pharmacy is closed, customers can now pick up their prescriptions at any time, adding unprecedented convenience and security for pharmacy customers.
"Improving workflow efficiency has been a part of Bell and Howell's DNA since the beginning, the pharmacy in-store pickup process is no different," said VP/GM of E-Commerce Click & Collect Solutions Christopher Hill. "By automating the most time-consuming element of the prescription pickup process, QuickCollect Rx™ provides the convenience of 24/7 pickup, eliminates long wait times, and enables more customer access to the pharmacist."
Each QuickCollect Rx™ installation is supported by Bell and Howell's award-winning service and support, with remote monitoring and advanced analytics available to further enhance the customer experience.
To learn more about QuickCollect Rx™, visit www.bellhowell.net, call 1-800-220-3030 or follow the company on LinkedIn and Twitter.
# # #