Revamped e-commerce site improves customer experience and helps ensure maximum equipment uptime
DURHAM, N.C. (October 2, 2018) — Bell and Howell, an industry-leading technology services and solutions company, has unveiled a new website for customers seeking replacement parts for their production mail equipment. The redesigned website is the company's latest area of investment as they continue to further enhance their service offerings.
"Part of our commitment to our customers is to ensure they have quick and reliable access to the parts they need to keep their equipment up and running," said Jim Feely, Vice President of Service Operations at Bell and Howell. "The new website allows customers to find the parts they need quickly and efficiently, while providing other value-added resources, all in one place."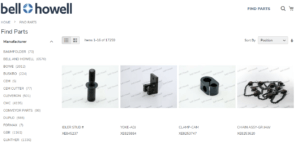 At my.bellhowell.net, customers can order parts and supplies for Bell and Howell products, as well as other OEMs and third-party vendors. Customers can track order status and purchase history, and even place a service call through the online portal. For added convenience, the new website now provides access to Bell and Howell parts manuals, providing customers with another method of identifying the part they may need for their equipment.
The new website leverages Bell and Howell's advanced logistics capabilities that include a vast parts and inventory network of nearly 50,000 SKUs, with a centralized parts distribution facility at the company's headquarters in Durham, N.C. and more than 400 stocking locations throughout North America. This allows the company to offer next-day or next flight fulfillment capabilities to customers that need parts quickly.
"Our goal is to help our customers operate with the maximum uptime," said Lyle Blue, Manager of Parts Business Development and Service Logistics at Bell and Howell. "Our expansive parts distribution network and robust inventory ensure that our customers have immediate access to the parts they need so they can be as productive as possible."
To find and order parts, please visit my.bellhowell.net. To learn more about Bell and Howell, please visit bellhowell.net, call 1-800-961-7282 or follow the company on Linkedin and Twitter.
# # #
About Bell and Howell
Bell and Howell leverages innovative technologies and unrivaled service capabilities to help its customers increase efficiency, reduce costs and improve their customer experience. Boasting a rich history and expertise in mechatronics and workflow efficiency, the company delivers comprehensive automation solutions in retail click-and-collect, pharmaceutical factory intelligence, production mail, and consumer packaging automation. Headquartered in Research Triangle Park, N.C., Bell and Howell is one of the largest and most sophisticated service organizations in North America, with more than 750 service engineers, 24/7/365 customer service and technical support centers, as well as advanced remote monitoring and diagnostic capabilities. For more information, please visit bellhowell.net or follow us on Facebook, Linkedin and Twitter.