N.Y.-based Direct Mail & Marketing Service Company Deploys High-Speed Producer 400DM Inserters
DURHAM, N.C. (September 18, 2018) — Bell and Howell, an industry-leading technology services and solutions company, announced today that Access Direct Systems, Inc. has selected Bell and Howell's Producer 400DM inserters to streamline operations and help support an increase in print volumes at its Farmingdale, N.Y. production mail facility.
Founded in 1969 as a data lettershop, Access Direct has transformed its business into one of the largest direct mail and marketing service companies in the country, producing more than a billion pieces of direct and transactional mail each year. In response to the industry shift toward digital printing, Access Direct transitioned its operation to high-speed inkjet printers, resulting in a nearly 25 percent increase in overall capacity. The increased throughput of printed materials required Access Direct to seek new finishing equipment capable of supporting these high volumes.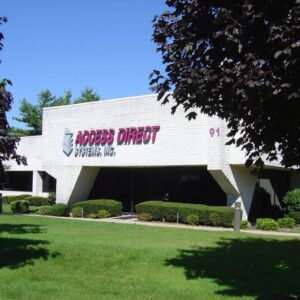 Having partnered with Bell and Howell for many years, Access Direct knew Bell and Howell's mail inserting solutions and service team be would be able to help them meet their new operational demands. "Bell and Howell has played a vital role in helping us maintain quality and meet all our customers' stringent requirements," said John DiNozzi, president of Access Direct. "From the best technology to prompt and professional service, we know they are committed to our success."
Designed for high-production environments, the Producer 400DM can process up to 20,000 pieces per hour and handle a wide range of letters and flats of various sizes. By replacing 20 existing inserters with eight new high-speed Producer 400DM inserters, Access Direct was able to drastically reduce labor costs and improve operational efficiency while increasing inserting capacity.
To further increase its mailpiece quality and integrity, Access Direct added Bell and Howell's innovative JETVision® image technology to its new inserters. The industry-leading track and trace technology utilizes multiple sensors to read and verify mailpieces throughout the entire line to ensure production accuracy.
"Access Direct's customers have high expectations of the company, which is a testament to the level of service and quality Access Direct consistently provides," said Earle Painter, Vice President and General Manager of Production Mail at Bell and Howell. "We're excited to continue our relationship with Access Direct and help them continue to deliver the superior level of service and results that they're recognized for by their clients."
To learn more about Bell and Howell, visit bellhowell.net, call 1-800-961-7282 or follow the company on Linkedin and Twitter.
# # #
About Access Direct Systems, Inc.
As one of the largest direct mail and marketing service companies in the country, Access Direct Systems, Inc. is responsible for mailing over a billion pieces annually. It services various industries which include publishers, banks and financial institutions, advertising agencies, communication companies, membership organizations, fundraisers, retailers and other Fortune 1000 Companies. Many large volume and continuity mailing clients prefer Access Direct because of its record of performing these services consistently and cost-effectively. To support these mailings, its services include database management, print production management, postal optimization, personalization, and mailing. For more information, please visit www.accessdirect.com.
About Bell and Howell
Bell and Howell leverages innovative technologies and unrivaled service capabilities to help its customers increase efficiency, reduce costs and improve their customer experience. Boasting a rich history and expertise in mechatronics and workflow efficiency, the company delivers comprehensive automation solutions in retail click-and-collect, pharmaceutical factory intelligence, production mail, and consumer packaging automation. Headquartered in Research Triangle Park, N.C., Bell and Howell is one of the largest and most sophisticated service organizations in North America, with more than 750 service engineers, 24/7/365 customer service and technical support centers, as well as advanced remote monitoring and diagnostic capabilities. For more information, please visit bellhowell.net or follow us on Facebook, Linkedin and Twitter.